Get the Book
Colonel Trash Truck is a likable, fun-loving hero who is extremely focused about his mission to win the garbage war. He sees the world and nature as a beautiful gift that we all need to appreciate and protect. Colonel Trash Truck believes cleaning up trash and recycling is something we all must do and he wants nothing more than to have kids join him in his quest to "Keep the Planet Clean and Green".
Overall, Colonel Trash Truck is likable and bigger than life. He wants nothing more than to clean up the planet and bring kids along to join him in his quest.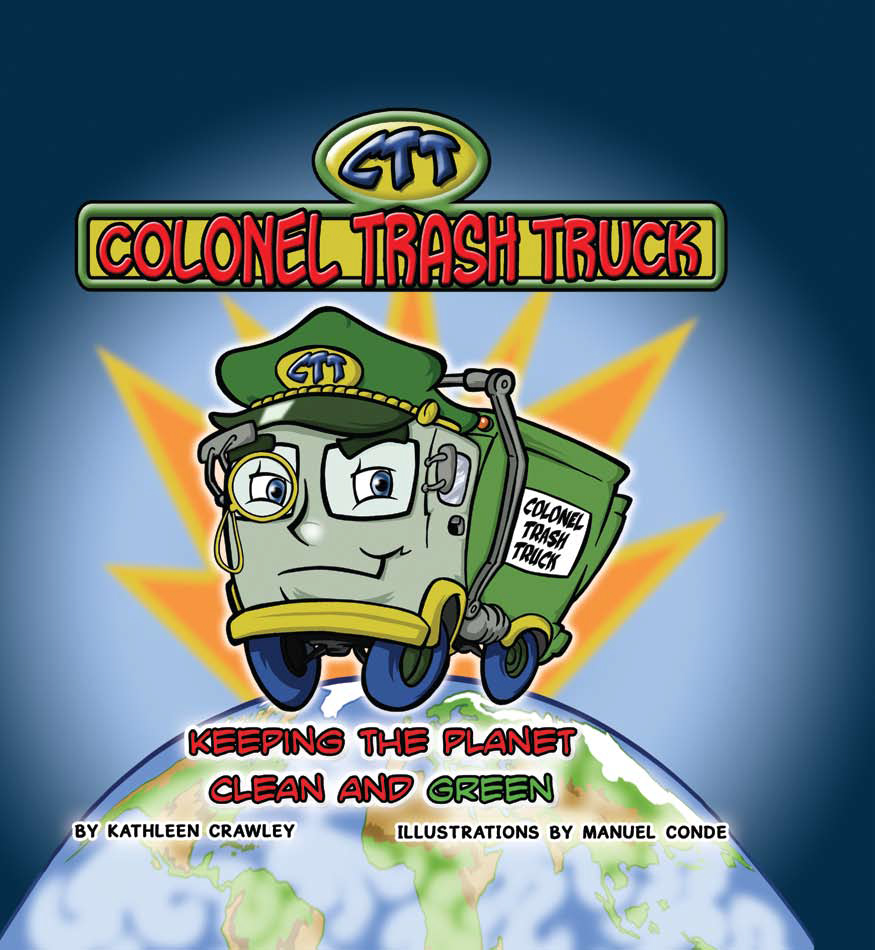 Colonel Trash Truck Reviews
An Amazon Review
Who knew trucks could be cool for kids? Livin' La Vida Low-Carb Man "Jimmy Moore" (Spartanburg, SC)
Brilliant, absolutely brilliant, Kathleen Crawley! My niece was thrilled when I shared COLONEL TRASH TRUCK with her and I know it will instill in her a sense of pride when she hears that distinctive sound passing by her home. Outstanding illustrations that engage children and a rhythm to the rhyme makes it right on time. And, I do believe this is the first book I've ever read the phrase "don't spit your loogies" in. TOO FUNNY! Children of all ages will enjoy this ode to the trash truck and teach them respect for this essential service to keeping our communities clean.
An Amazon Review
Unless someone like you cares a whole awful lot, nothing is going to get better. It's not. -Dr. Suess, The Lorax Cherise Everhard (Michigan, USA)
Colonel Trash Truck is cleaning up the planet and recruiting kids into his clean and green army!
This is a rhyming book that stars a talking trash truck. He picks up the trash and along the way tells children how important it is to be clean, not just about litter and garbage, but also with their homes and bedrooms. He lets them know about the importance of recycling and how it helps to preserve our planet. This is all done with colorful pictures and rhymes that are sometimes hilarious. I read this to my son and we giggled and had a great time, he really liked the book.
This book would make a great teacher gift. When my son was in Kindergarten his teacher spent a lot of time speaking about littering and recycling, I think this book would have helped her bring the message home with a bit of humor and fun.
It is never too early to start teaching kids about respecting the planet and their things, and this book was a fun and way to do it.
Bees Knees Reads
We've been reading a lot of comic books lately. Here's another fun book for 3-6 year olds with illustrations in the comic book vein: Colonel Trash Truck by Kathleen Crawley. The fun illustrations are by Manuel "Macs" Conde. Colonel Trash Truck is a big green chomping hero who teaches children the importance of cleaning up after themselves and recycling to keep our world green. It's written in simple, easy, silly rhyme and will keep kids laughing and entertained.
Upscale Baby, Mom Blog
"Colonel Trash Truck" by Kathleen Crawley is a cute book that teaches kids about protecting the earth while entertaining them with an engaging story. Colonel Trash Truck is a colonel in the "Garbage War" and is on a mission to keep the earth clean and trash-free. He teaches kids about recycling and properly disposing of trash, and enlists young readers to help him on his mission. This book is perfect for preschoolers and young early readers. Read this one to your child if you're concerned about teaching him about ecology and preserving our earth.